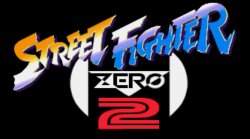 | | | |
| --- | --- | --- |
| Series 1 | Series 1 (Swaps) | Series 2 |
| | | |
Backgrounds
Series #1 is from the character selection screen. These gifs were captures by me from the arcade version.
The next gallery is identical to the first, however, I went through and captured each character and his/her alternate colors. This includes six punch and six kick colors, SSF2 swaps, both Chun-Li's outfits, Sakura's extra outfits, Evil Ryu and Shin Gouki. It's absurd and tallies over 140 captures.
Series #2 is the series' official art and is likely the best art in the entire Street Fighter universe. The base 13 fighters from Zero were illustrated by Edayan with the five newcomers being drawn by Bengus. I simply love this art.
The background series was scanned from the Versus strategy guide. These are all phenomenal. I scanned them in at 300dpi. Four of the five newcomers (all but Sakura) had smaller art in the book, therefore those scans aren't quite as large. Great stuff!
Key Art
Poster 1
Poster 2
Poster 3
Poster 4
| | |
| --- | --- |
| Poster 5 | Poster 6 |
| | |